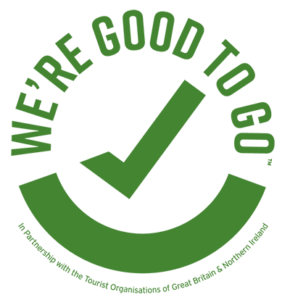 In line with current Government guidance, although any restrictions to the imminent strains of Covid 19 have been relaxed as "We learn to live with Covid"    Here at Jay Millers Circus we will retain a number of health and safety measures to reduce any risks associated with the transmission of COVID-19. These are in place to ensure that we provide confidence to everyone's safety & health as this is paramount to us throughout your visit to us here at Jay Millers Circus.
PRIOR TO VISITING US
Take a moment to view our website or Facebook/Twitter sites, as these are constantly updated with current information or last minute requirements.
Please, wherever possible, pre book your tickets to avoid queueing on arrival. Arrive early, at least 30 minutes prior to the show you have booked as it may take a little longer to check everyone in & remember when queueing maintain a Social Distance.
Currently it is no longer Mandatory to wear face masks – Whilst inside the Big Top, Please feel free to wear one should you wish.
We may make random temperature checks as customers arrive to ensure no one is 37.8C or greater.
If you or anyone in you family have displayed symptoms of COVID 19 in the last 48 hours PLEASE DO NOT visit. Tickets are always transferable but unfortunately are not refundable without a charge .
Toilets are on site, but please only use these as an absolute necessity. We are still trying to minimise areas of high usage.
ON ARRIVAL AT SHOW TIME
Please arrive with care and consideration and remember social spacing.
Look for all relevant Circus signage, it is there to guide and inform you of special measures that are currently implemented.
Our Big Top still maintains limited capacity so we ask you stay in the seats allocated to you and minimise movement around the Big Top once seated.
THROUGHOUT THE PERFORMANCES
All performers will be separated from our customers at all times.
At the current time, there will be no audience participation.
We will maintain enhanced air flow & ventilation to reduce possible transmission
AFTER THE PERFORMANCE
Please adhere to our trained staff & their instructions, who will guide customers to the exit points at the end of each show, to avoid any congestion points.
We unfortunately cannot permit any of our performers, at the present time, to meet with customers or pose for photographs.
ADDITIONAL MEASURES
Hygiene screens will remain at the ticket office, food outlets and any point of sales.
Wherever possible, use contactless payments.
Enhanced cleaning measures are in place at 'high touch points' and a deep clean is taken place between performances.
Our staff will utilise PPE (Personal Protective Equipment) as appropriate both for themselves and our customers.
Hand Sanitisers are located at strategic points and customers are requested to use these when entering the Big Top.
Our staff have been COVID-19 trained to help keep both you and themselves safe, throughout your visit. Please respect their instructions and any guidance they may give, it is for a reason.
We ask that all visitors are courteous, especially during these trying times, to all others, not only physically but vocally as well. Abusive or threatening behaviour will not be tolerated as Jay Millers Circus is a family run business for all the family to enjoy.
AND FINALLY
We hope that even with all these current measures, you will enjoy your visit to Jay Millers Circus. We are pleased to have received the Visit England 'We're Good To Go' industry standard mark which demonstrates that our Circus has met the Government and health guidance on COVID-19 to ensure you have not only an entertaining but safe time,  here at Jay Millers.